Guillaume Macaire was born in Compiègne in 1956. His passion for the horses is due to the racecourse of Putois witch he frequently visited from a young age.
After a short career as a amateur rider, he situated himself in Compiègne with a small team. After he moved to Maisons-Laffite with a dozen horses, before arriving in Dordogne at La Roche Chalais.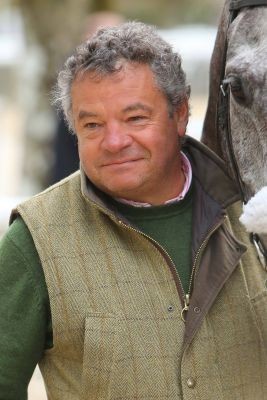 He got to know the south-west region where the races have deep roots by being the chosen trainer for R. Vallet. He gradually got more winners and his results grew year on year.
Since leaving La Roche Chalais, for the last 20 years he came to settle in Royan-La Palmyre.
His choice of this side was not by accident… In one part the close proximity to the sea and his big beaches ideal for horses, the forest and the sand tracks represent important asset. But above all, the potential of the terrain in and around the racecourse was not yet exploited for what could be an enormous benefit for a racehorse trainer. All of these factors let him to approach to the local society and ask about the possibility of renting boxes. «I thought that even if it would be some hard work and a lot of planning to create, it would be an ideal place for a trainer of jump horses. My past experiences notably in Maisons-Laffite opened my eyes to all of the optimum conditions needed to achieve my goals. Then I was put to work!»
The construction of more galops or fences allowed him to work in good conditions. Because of his determination and innovation he continuously increased his results as well as the infrastructure of the stable.
In 2012 a completely new stable was built to his specification with a capacity for approximately one hundred horses. It was constructed with a balance of practicality and esthetics in mind.
In parallel to his professional activities which he's always passionate for, he also enjoys painting as a good creative way of relaxing. In 2014 he published his first book «A pied, a cheval ou en voiture». The second was recently released. It is entitled «A la plume Sergent Major où à la mine de plomb» edited by yellow concept editions.
Since 2003 he has been champion trainer every year, with a record of 282 winners in 2015. The yard has been successful outside of France at the highest level with a few successes in Group 1 races in England as well as Italy.