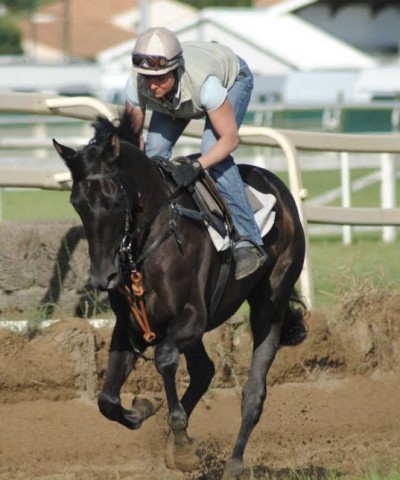 Guillaume Macaire likes to say: «To succeed every link in a chain has to be well greased. The difference between victory and defeat is so small that every detail counts.»
The team functions in a pyramid system where everybody has his place from the base to the top. The work riders, the travelling lads, the yardmen, the jockeys, the secretary, the head lad and … the trainer.
The team is made of about thirty people.
The head lad, Philippe Robert is the one to open and close the doors every day. He is the first to step in the yard have a look on the horses. Since 1999 he works besides the trainer and takes care of the good fonction of every days training.
Part of the fixed feature for a long time is Patricia Le Tellier. She ist secretary, accountant, adviser, owner and sometimes rider - all in one person.
On the horse Guillaume Macaire has the support from Aurore Benon. She transfers the orders and spreads the tasks between the lots.
Guillaume Macaire likes cutting the grass on his own but other ways it's in Jérôme Davids hands. Nicknamed « Jéjé » rides out, plants, soaks and cuts all green space. He's a handyman with important skills for a stable.
Twice a week a business clean and put a new straw bedding in the stables.